'IMAGO' Exhibition July 2021 Birnam Arts
It's been a while, 7 months in fact since the solo show. The nervous energy, adrenalin, emotions, it's a bloody rollercoaster. The well wishes and lovely words of encouragement, the questions, the scrutiny and focus, it's not usual and yet it's an integral part of the process. As soon as you subject your work to the world, you give permission for everyone to have their voice and you have to hear it, suck it up, the good and the bad. And then it's over and you're bubble wrapping the hell out of those that sold and those that are coming home. Thankfully, that was only 3 of the 11 works. Whoop!
The body of work began in 2019 in St Margaret's House in my studio. It took 2 years to build up enough good pieces to be able to say 'hell yes' to the opportunity for a solo show at the BI. All the paintings were of the residents at Corbenic, a residential home for adults with learning disabilities. I'd hang out with them at the festivals, everyone dressed up, faces painted, dancing and laughing together. On those nights, labels, disabilities and limitations were transcended and we were just people, sharing a moment together. That's what I wanted to capture.
I had the high and the inevitable low and today, Sunday 20th February, I threw my apron on and started working again. Oh how I've missed the smell of the oil paints, the energy throughout my body, it's rejuvenating. It's time…time to make art, create and do what's in my blood.
Royal Society of Portrait Painters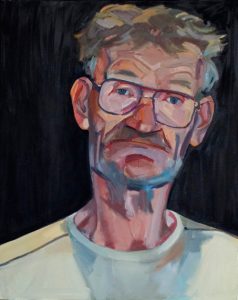 This portrait of Edwin was selected in 2009 to be part of the annual Royal Society of Portrait Painters exhibition in London. Today, eleven years on, I'm about to have a painting I did as part of a series of works based on the residents of Corbenic Camphill Community where I work, go through for the second round of judging.
Either time flies, or I've done SFA for the past decade! Lets go with the time thing and say good luck to Louise as she hits the M6 on her way to that London. Fingers crossed.
I'm sitting in my new studio in Meadowbank House in Edinburgh, headphones in, hands stained with oil paint, brushes lined up like children waiting for a bath.The sun is streaming through the window and I thought I'd take a moment to be thankful and reflect on the year so far. I've reduced my days at work so I have more time to be creative, I've moved house, got a studio, started an amazing yoga class. I've completed 2 commissions and started painting faces again as part of the #404taken instagram initiative. The challenge was 100 heads, I got to #14. Moving swiftly on.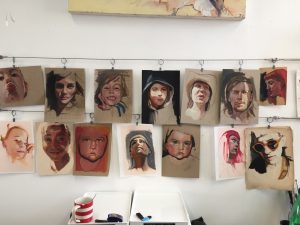 It's been two months since I wrote the above paragraph. Some things have changed and others remain constant. The sun's blinding me, my brushes are soaking, and I'm still thankful. The changes that have taken hold are my progression to working big and wrestling with ideas for that future show. The creative process is like doing a tango on a moving carpet. You fall down, you get up, you get pissed off that the moves that worked yesterday don't seem to cut it today. It's a love / hate relationship that's both deeply satisfying and hugely disappointing, not to mention humbling and challenging. I've decided to love it today and embrace that I'm not as prolific as I'd like to be, nor am I ready to face the public arena of exposure and vulnerability. It's all good. This far into my career as a artist there are some things that you get better at…trusting that you have a talent and that those brush strokes that look shit today, will emerge as something wonderful tomorrow. Reflection, frustration and patience go hand in hand and so I resist the urge to rush the process, making space for error and most importantly, maintain my curiosity to keep it fluid, free and fun. Piece of cake.
I'm humming a song as I sit here ready to fire out an epic blog,
"welcome to my world, won't you come on in, miracles I guess, still happen now and then".
Where'd that come from! Intrigued as to who sang the song I quickly google. Jim Reeves. Well I'll be…..Watery memories, dulcet tones and out of focus album covers are flooding the mind. Somewhere in that brain of mine, Jim has been logged, stored, imprinted on my very very impressionable young brain. I have my Dad to thank for that cache. Wish you could check and delete specific browsing history,  say from 1975? I put that to all you cognitive neuroscientists out there. Get cracking.
My world is white. My studio, cold. My hands, stiff, but my enthusiasm is red hot. I've been inspired thanks to my lovely artist friend Ann Ruddy who's taken up the gauntlet with the #100heads challenge on Instagram. At first I thought "you're mad. 100 heads…one a day, no chance". I've been checking in and every day, there's a new drawing or painting. I was starting to feel the creative itch unravelling in my gut. Then, Ann out and out challenged me to start drawing and mentioned the group who started the whole thing #404taken. 
So many amazing pieces of work out there, so many inspiring artists. That was exactly the impetus I needed and so I'm going to start drawing and painting and posting heads. I feel so charged right now, I'm aiming for 100 heads today! I can hear a familiar voice in my head "pace yourself Joanne" (pronounced 'pea-is' in Belfast).
And back to Jim and his significance in my world this morning. It's amazing what the brain throws up at you and it's amazing how the timeline of life seems to exist all at once. As a kid I was always drawing faces, particularly actors from Dynasty, Dallas and Falcon Crest, (we had 3 channels ok). I would see faces in the pleats of curtains, unravelled balls of wool, rough stone walls where I'd go to scrape the toes of my very boyish brogues, and in the bubbles of my Matey Friday night bubble bath. I'm still obsessed with faces and it's only right that I do  what I say instead of saying what I do.
If you want to check out my heads, follow me here, not here here.
Well, I say 2 but that's only from a blog point of view.  My body clock has an internal alarm of it's own. 4.45 was the wakeup call this morning. That happens a lot. The culprit is my mind….it's up like an excitable toddler at the first break of dawn, with an expectancy that's just simply annoying for others at quarter-to-would-you-get-back-into-that-bed-o'clock.
To shed some light on the impetuous mind, I've been beavering away in my studio working on a painting called 'Jim'. It's a gift for someone who's just recently lost her husband.  I donned the ubiquitous overalls yesterday, sat down at my easel and a deluge of highly focused, highly productive creativity washed me away for hours. At 5pm when my studio door knocked, I felt like I'd been defibrillator(ed) back into the real world. A huge gasp of air, a shock realisation of the time and I'm stuffing my bag with paints and brushes to take home, desperate not to lose the flow. The scene can be likened to something from Twister, the 1996 film featuring Helen Hunt, whose mission is that of storm chasing. The intensity, focus and commitment it so profound, even her life is endangered.  Folks, I risked possible death, running down stairs, across roads, dodging tractors and elderly folk driving erratically, all in the name of chasing that creative storm.  It was harnessed once again, my Jim painting propped up against the slope of my velux window (I have low ceilings) and away I go, whoosh!
There's an excitement caught beneath my rib cage this morning, either that or a chest infection, but I feel a stirring which will just have to settle slightly as I head off to work. Those overalls won't know what's hit them at 6pm today.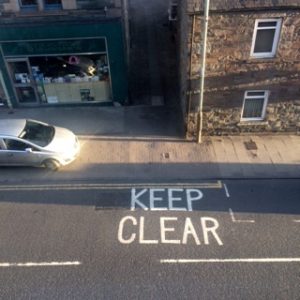 It's 5:48 am, I'm on my second cup of coffee and the sun is shining, casting shadows on the Co-op carpark at the back of my house. I've been taking a break from the long and winding roads that have featured heavily in my work of late. I've come to a crossroads, weighed up my options and decided that I need to get back to painting faces. My studio is warming up and my paint no longer takes ages to squeeze from it's tube due to the frost on the inside of my windows.  Those days of sitting on top of my radiator are gone.
A work in progress of my daughter Ella.
Changing back to Shaw, my maiden name, seems like a progressive step forward. I feel like a new woman, with some new work, new energy and thanks to my wonderful friend Steve Jones, who assisted me greatly, I now have a new site. It's all looking good for the launch, which will already have happened if you're reading this.
Hopefully, this clean, simple site will be the perfect platform to showcase my work and generate some interest as to what I'm up to.
For prices and available works, please get in touch.