Royal Society of Portrait Painters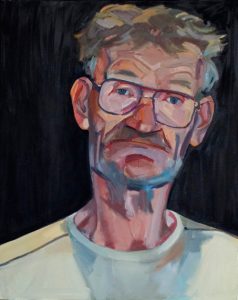 This portrait of Edwin was selected in 2009 to be part of the annual Royal Society of Portrait Painters exhibition in London. Today, eleven years on, I'm about to have a painting I did as part of a series of works based on the residents of Corbenic Camphill Community where I work, go through for the second round of judging.
Either time flies, or I've done SFA for the past decade! Lets go with the time thing and say good luck to Louise as she hits the M6 on her way to that London. Fingers crossed.